Speaking Engagement
---
22 Jun 2019 – Excel for Genealogists at the California Genealogical Society.
28 Jun 2019 – LGBTQ Genealogy at the California State Library; Sutro Library.
1 Aug 2019 – LGBTQ Genealogy at the California Genealogical Society.
LGBTQ Genealogy
This two-hour presentation focuses on clues in the genealogical records to find ancestors that may have been Lesbian, Gay, Bisexual, Transgender or Queer. Stewart tells stories of many LGBTQ ancestors in the historical context of LGBTQ rights. Clues to ancestors can be found in photographs, census, newspapers, obituaries, cemeteries, military records, marriage records and LGBTQ Archive around the world. The presentation is both factual and emotional in portraying LGBTQ people in the past centuries.
The second part of the presentation focuses on current genealogical software and the difficulty faced by LGBTQ and adoptive family. Sometimes the software just doesn't fit. Stewart makes recommendations on how software needs to evolve for today's families.
Listen to a Podcast of Stewart discussing LGBTQ Genealogy on Bespoken Bones.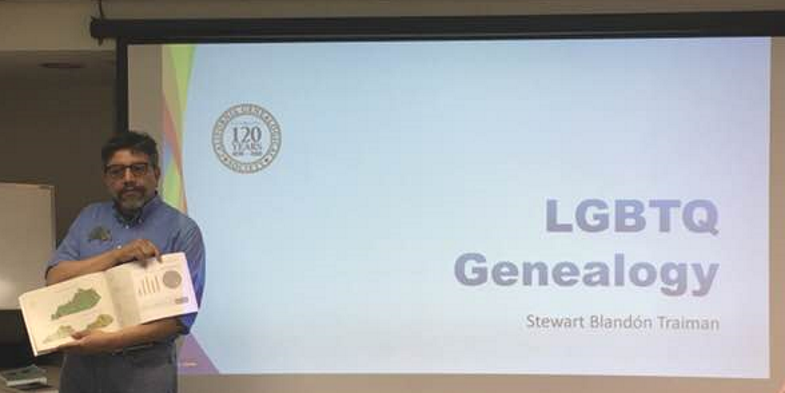 Excel for Genealogist
Stewart loves spreadsheets! He uses spreadsheets at work every day as an IT Manager. He is an expert in Microsoft Excel using it in genealogy very frequently. Laying out all the data in Excel can help researchers see gaps in knowledge or correlations between data points. Breakthroughs can easily happen by visualizing data in spreadsheets.  Stewart shows many examples of his use of spreadsheets to track newspaper clippings, a vital records catalog, tracking ancestor addresses over time, and tracking whole families over many census. Stewart trains users to use Excel filter, sorting, color coding, calculations and many other functions.
Spreadsheets are fun!