Preserving Records from the California Genealogical Society
I enjoy genealogy research because it brings forgotten stories back to life. Piecing together a person's life story using online databases with document images is energizing. One clue leads to another and with luck you'll come to know who that ancestor was.
Genealogy has been transformed in the last half-century with the internet and the tremendous growth of online records. It's been said that genealogical records are like an iceberg. What can be seen of the iceberg above water are the online records, while the greater iceberg volume below the surface represents offline sources. Every day more and more of the iceberg is seen above the surface.
Digitizing records not only makes them more accessible by the public but is crucial for record preservation as well. There are still vast amounts of resources in need of scanning and photographing so the future will know about the past. I'm grateful to everyone who's worked to scan, index, and post online records which has made my research a bit easier.
I enjoy research, but I also enjoy record preservation. Both are key components of modern genealogy. I've been fortunate to have a few opportunities to digitize records for online publication. A few years ago, I worked with My China Roots at preserving a few dozen zufus. Today, I'm working with the California Genealogical Society (CGS).
I've been a member and volunteer with CGS since 2014. Part of our mission is to provide unique California, Bay Area, and San Francisco records to researchers. We have an extensive library in downtown Oakland with one-of-kind books. Our Manuscripts Collection archives donated research papers from dozens of past genealogists. And our Vertical File collection preserves hundreds of unique documents. All these resources can be found at Online Resources and Searchable Finding Aids.
During the CGS library pandemic closure, a group of volunteers ramped up our digitizing efforts. Since no one could come to the library it made sense to bring the library to them. Several unique books have been digitized and preserved online. As we've indexed and added images to our online offerings, we've also increased our Names Index searchable database.
For my part, I've gone through three archival collections gleaning any documents that are of interest to genealogists. I found beautiful treasures of old family photos, original marriage certificates, handwritten old correspondence, original deeds, diplomas, pedigree charts, and lots more. To date, I've scanned 4,600 documents from three manuscript collections – Frank Morgan Covell, Charles Francis Griffin, MD, and John Ellis Hale. All three men were members of CGS with the latter two being past presidents of the society.
This month the CGS board approved a motion allowing our volunteers to continue the effort, even though the library is reopened. We will continue identifying unique items in the library and making them available through our website.
I love research and I love preserving documents for the future. I will continue document preservation through CGS and any other opportunity that presents itself. In part, it's my way of paying it forward, as gratitude to all the people who've posted online records and helped me piece together my family histories.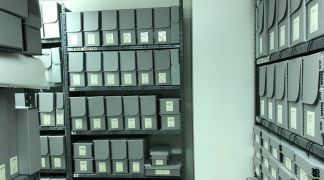 Archives of the California Genealogical Society