Current Software Do's and Don'ts
Family constellations, of all kinds, continue to evolve and change. Our genealogical software options have not kept up with these changes. One of the simplest changes would be allowing for the documentation of same-sex relationships. Yet some programs still do not have functionality for this simplest of steps. I follow a Wikipedia chart on Genealogical features which tracks Same-Sex Marriage availability in 22 desktop programs. Agelong, Lifelines, Personal Ancestral File (PAF), and Genbox Family History do not allow the linking of two people of the same sex into a relationship.
I downloaded the free trial version of Agelong by Genery and confirmed that two men cannot be joined together. The men are only given the option of having a wife. Both Lifelines and Genbox stopped the development of their code in 2007. These programs have been stagnant for 14 years and therefore are not viable market applications. PAF also discontinued its software in 2013.
Online programs are not tracked on Wikipedia. Ancestry.com and FindMyPast both have sex-neutral interfaces to adding spouses. You can seamlessly add a same-sex partner without any warnings or suggestive icons. They both set a good example for other softwares.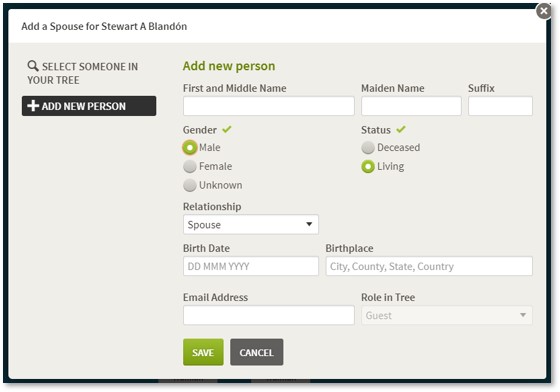 Ancestry.com Spouse Addition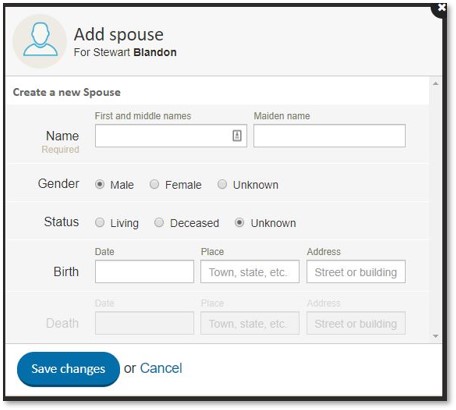 FindMyPast Spouse Addition
MyHeritage also allows for same-sex links, but their iconography suggests the addition of an opposite-sex partner.  When attempting to add a spouse for myself in MyHeritage it shows a female icon with a pink background. On the next screen it says, "Add wife of Stewart", but the phrase changes to "Add husband of Stewart" when I change the spouse's sex. If unknown, the neutral term "spouse" is used.  It is good that the labeling adjusts with the choice of sex.

FamilySearch trees started allowing same-sex pairing in December 2019, however, their opposite sex iconography did not change.[1] Even though two women can now be joined in FamilySearch a warning appears saying "This change will create same-sex relationship".  Really! Why is a warning necessary?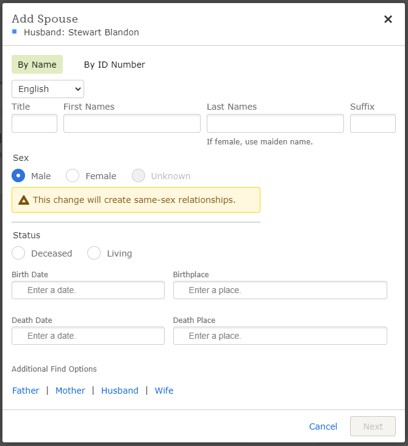 Beyond the linking of two people of the same sex in a relationship, there are many other software features in need of an upgrade to the 21st century. Primary among these changes is the labeling of parents and the limited sex choices. Most applications label parents as "Father" and "Mother". For LGBTQ families we are forced to choose which one of us is going into which box.  If I put my husband into the "father" box, then that would force me, a cis-male, into the "mother" box. Recently, one person told me their method is to assign the older of the couple to the father box. It's always an arbitrary choice. Rather than invent a standard for which same-sex parent goes into which box, let's modernize the software. In last month's blog, I discussed why we shouldn't have software limitations on just allowing for two parents.
When adding a person to the database, many more options besides "male", "female", or "unknown" need to be available for sex. Add "intersex", "non-binary", "trans", "MTF", "FTM" for a start. And sex differs from Gender Identity. There needs to be another field to fully describe a person's Gender Identity.
I'm a RootsMagic user. It's the software I adopted decades ago, and I've seen the company evolve with time. RootsMagic is about to release Version 8 very soon. Their Family View page looks very much like it did in version 7, except they've now added male and female icons.
I've submitted the following suggestion on how the upcoming upgrade can be improved.
Remove "Father" and "Mother" terms. Use "Parent" instead.
Remove the new icons until the person's sex and gender identity are known.
Have more than tow icon options.
Instead of "Father's Parents" or "Mother's Parents" simply use a "Parents" label.
Instead of "Add Wife" use "Add Spouse". This is done well when adding the subject spouse, but not when adding their parents.